It's Homecoming Week and it all starts tonight: 9/27: Powder Puff game at 7pm. 9/29: HC Court Breakfast at 7:30am 10/1: Parade 6pm, Homecoming game at 7pm 10/2: HC Dance 7:30pm. Congrats to the 2021 HoCo Court! It's going to be exciting. Go Red! #RedRaiderNation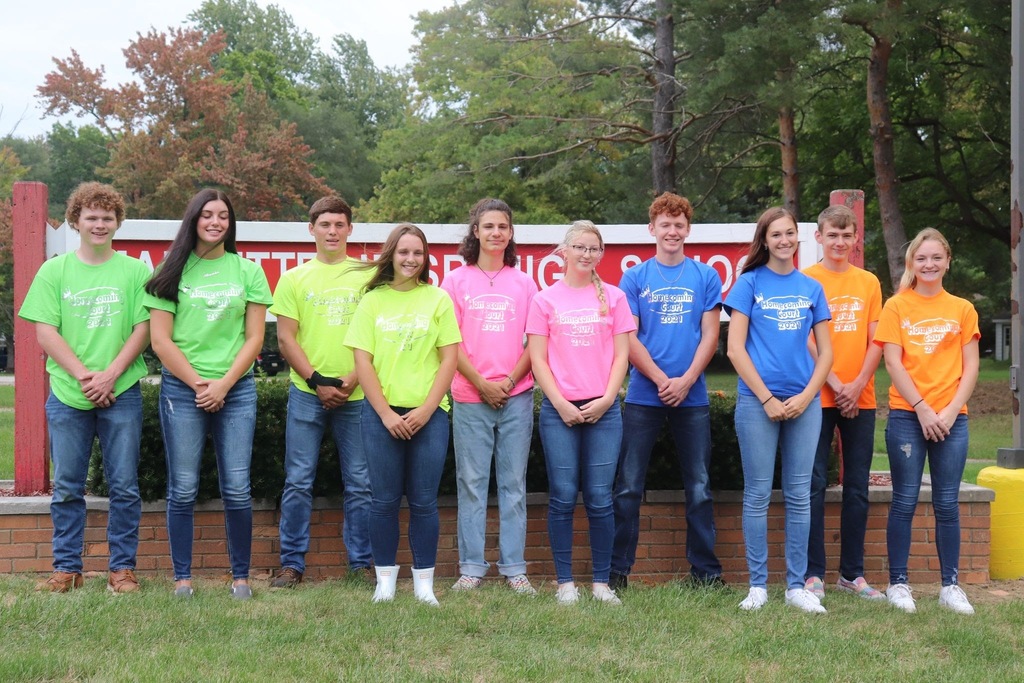 Congratulations to the elementary's Students of the Week, Riley & JayLynn! #RedRaiderNation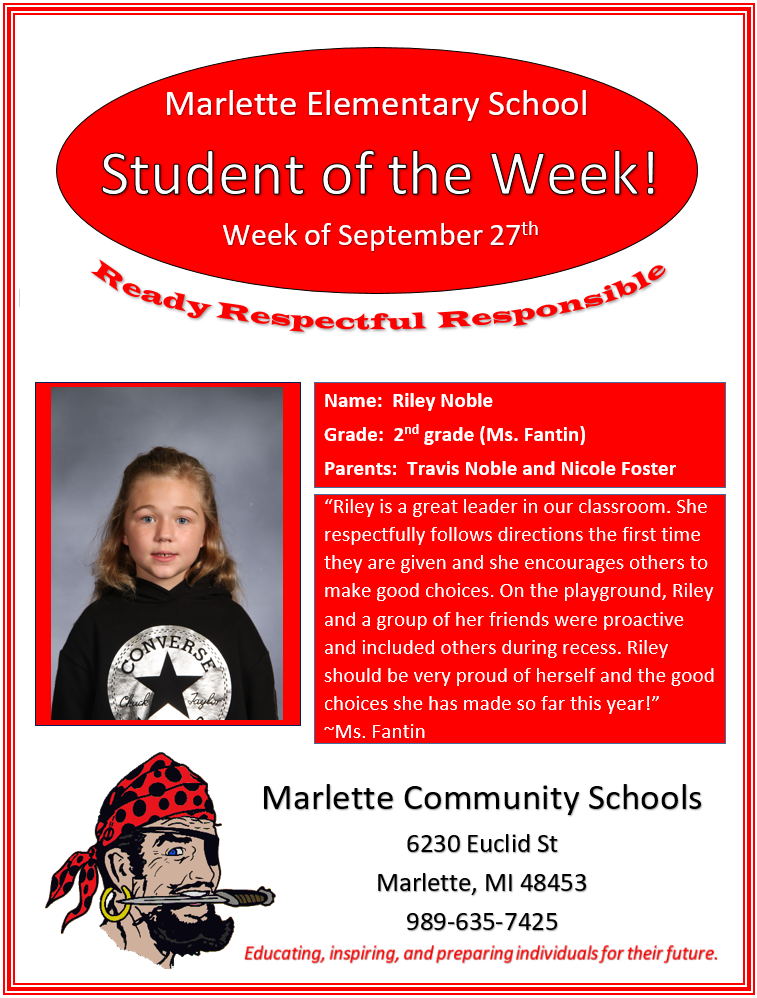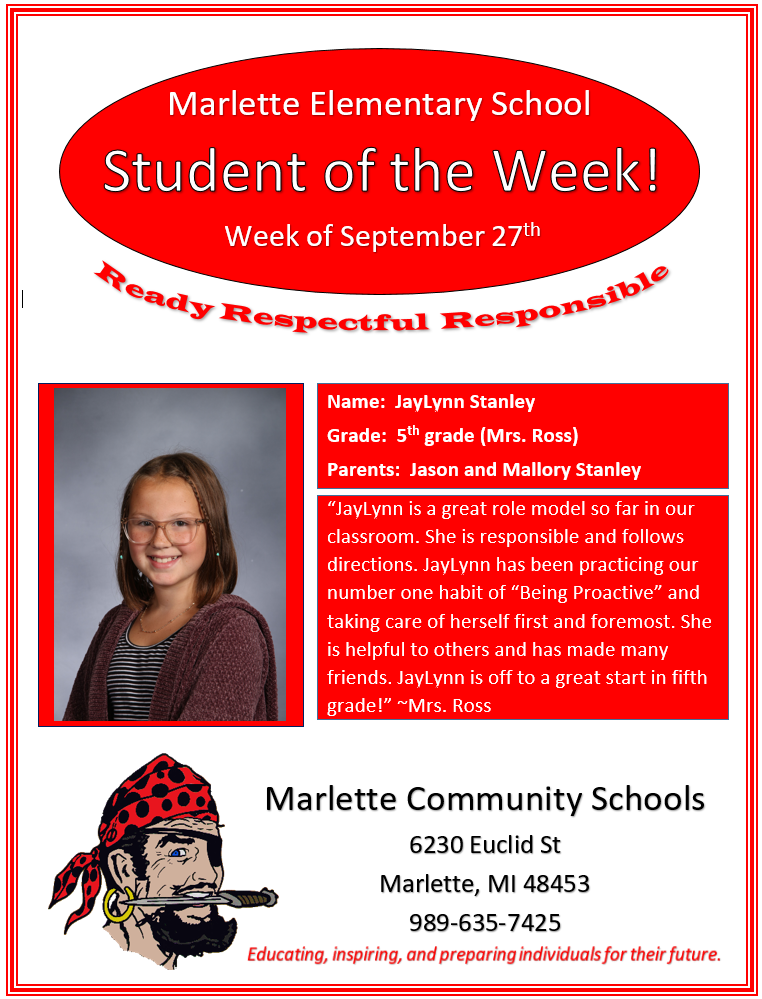 Varsity Football/Cheer teams traveled to Capac on Friday night, and on Capac's Homecoming and in front of a big Marlette crowd, the Red Raiders dominated the play and won 57- 14. Great job football and cheer teams!
The Varsity Volleyball team continued their winning ways with a BIG win over Brown City on Thursday night. The 1st place Red Raiders beat the Green Devils in 3 straight games, and they remain in a first place tie with Ubly. The JV team started the night with a big victory too.
Here is the elementary's spirit week dress up days schedule! #Homecoming2021 #MESistheBEST #RedRaiderNation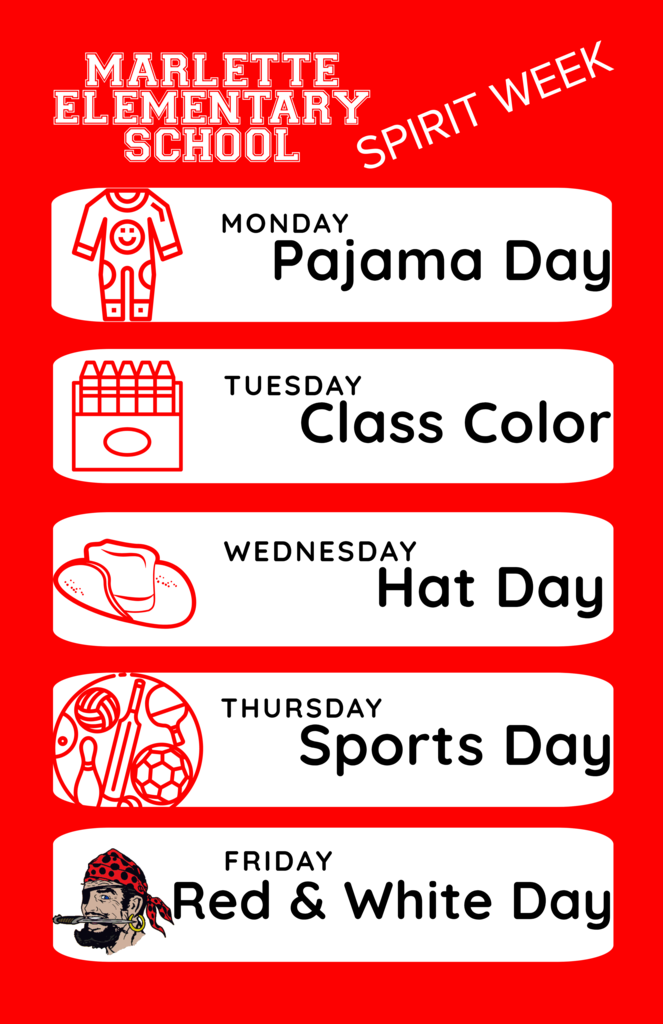 Had a great time hanging out at the JH PBIS Pizza 🍕 Party today. Thank you to our amazing JH students for showing their Red Raider Pride! #RedRaiderNation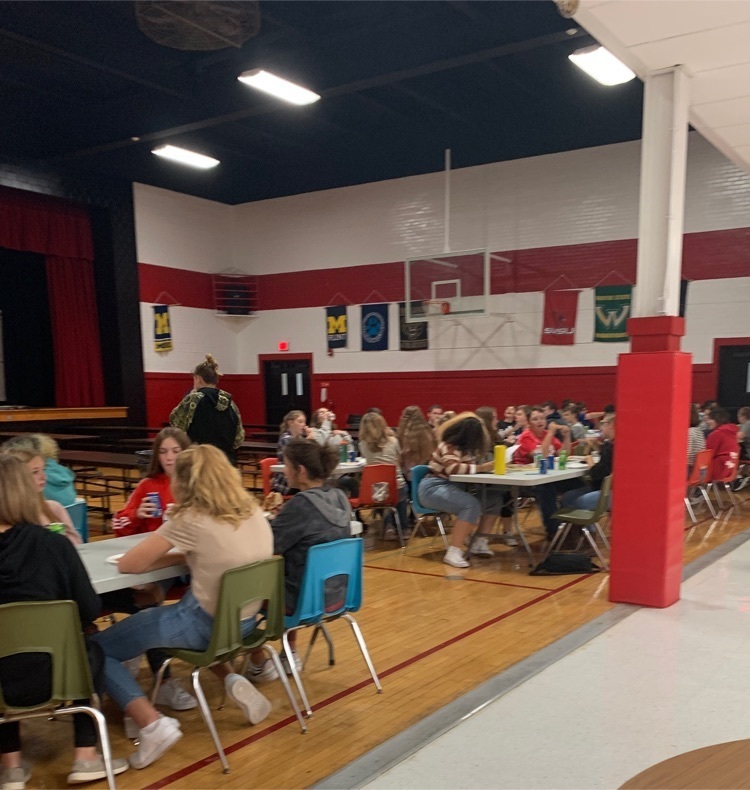 Next week's Jr/Sr High School Dress-up Days Monday: Grunge Day (as in Grunge music) Tuesday: Blasts from the Past/ Decade Day Wednesday: Country Day (as in Country music) Thursday: Pop vs Rock Friday: Red and White day *Decided upon by the HS Student Council Dress-up committee and Executive Board **All clothing must meet dress code unless specifically stated otherwise by Mr. Sorentino.
The weather cleared up and it has been a beautiful ☀️ Friday in Marlette! Next week: Homecoming game 10/1 Homecoming dance 10/2 Have a great weekend! #RedRaiderNation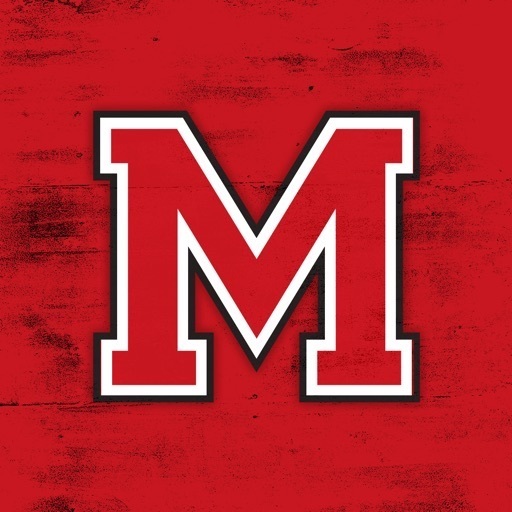 After a big JV win it's time for some Varsity Volleyball 🏐! #RedRaiderNation
JV Volleyball 🏐 action at Marlette! #RedRaiderNation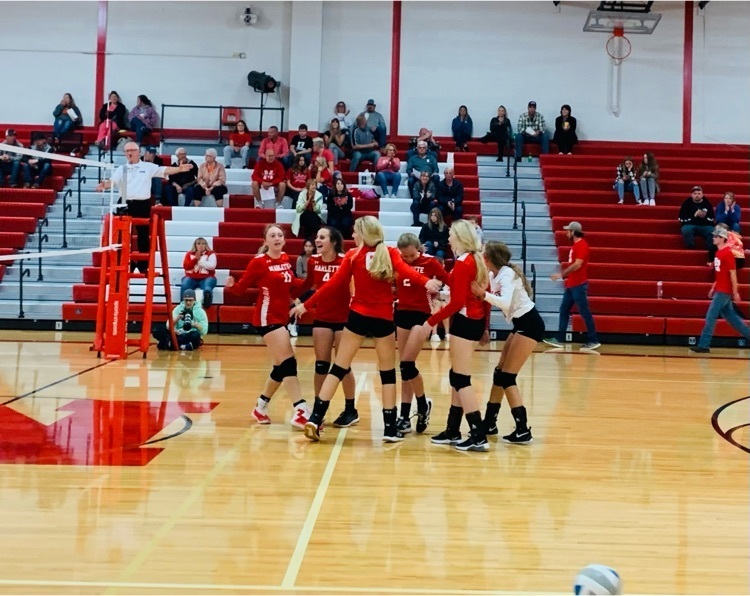 There is no JV Football game tonight.

Miss Melissa's bus will be running late this morning due to weather issues.

Today's JH football game at Capac (6:00 p.m.) is being played. JH Volleyball plays at home today at 5:30 p.m. It's Parent's Night, too! Good luck! Go JH Red Raiders!

The Marlette Red Raiders Varsity Volleyball team traveled to Sandusky last night. Our first place, and undefeated in league, girls beat Sandusky in 3 straight games. Great job girls and congratulations!

Bus Drivers needed!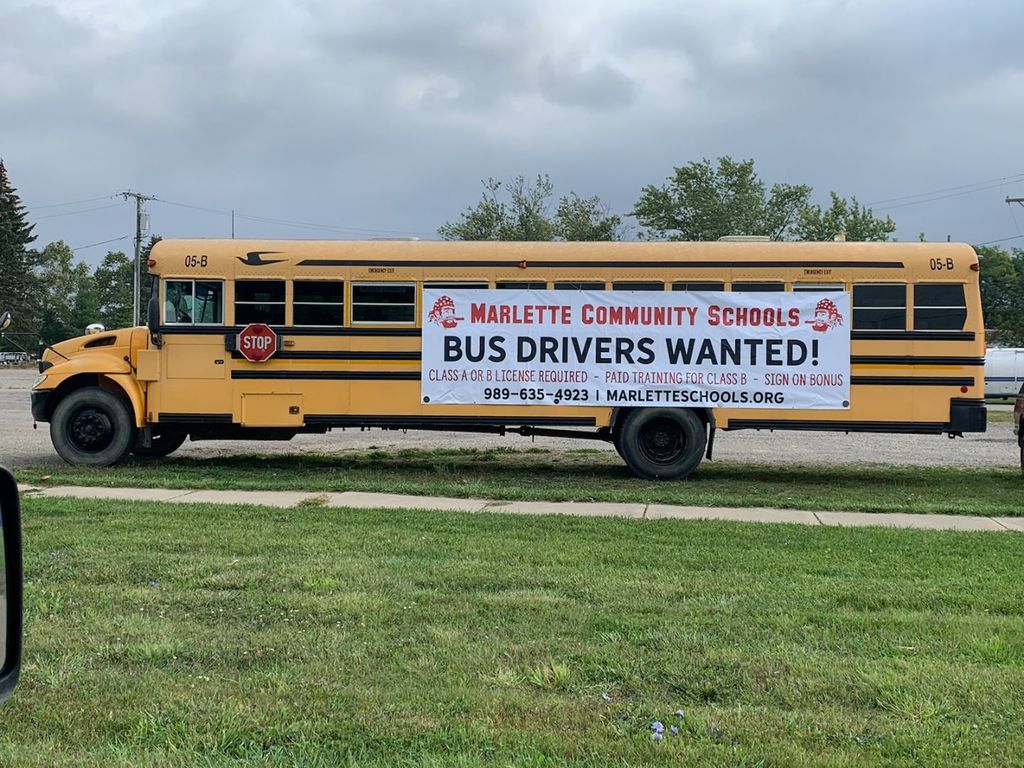 Marlette JV Football won at North Huron tonight, 51 - 0.... The JV Red Raiders are now 5-0 this season and the future is very bright for Red Raider football.... Good job boys and Go Red Raiders!
Marlette JH Girls Volleyball in Brown City..... the girls JH volleyball teams traveled to the Green Devils and the Red Raiders played very well in their games and really excited their fans.... Great job JH girls and Go Red Raiders!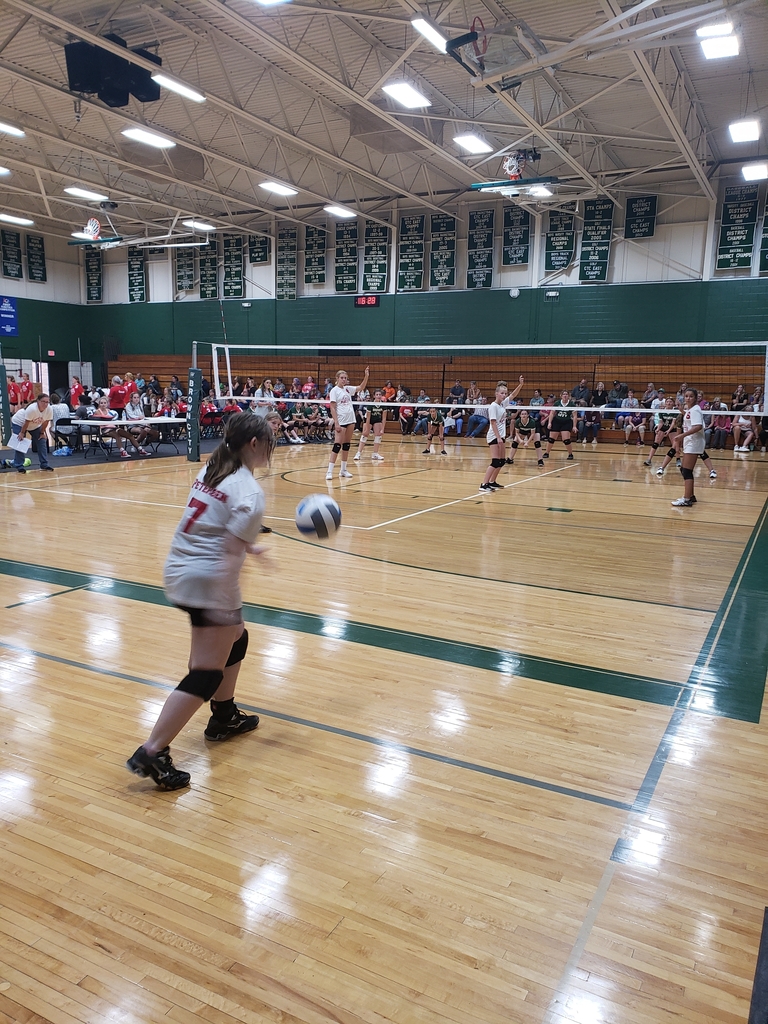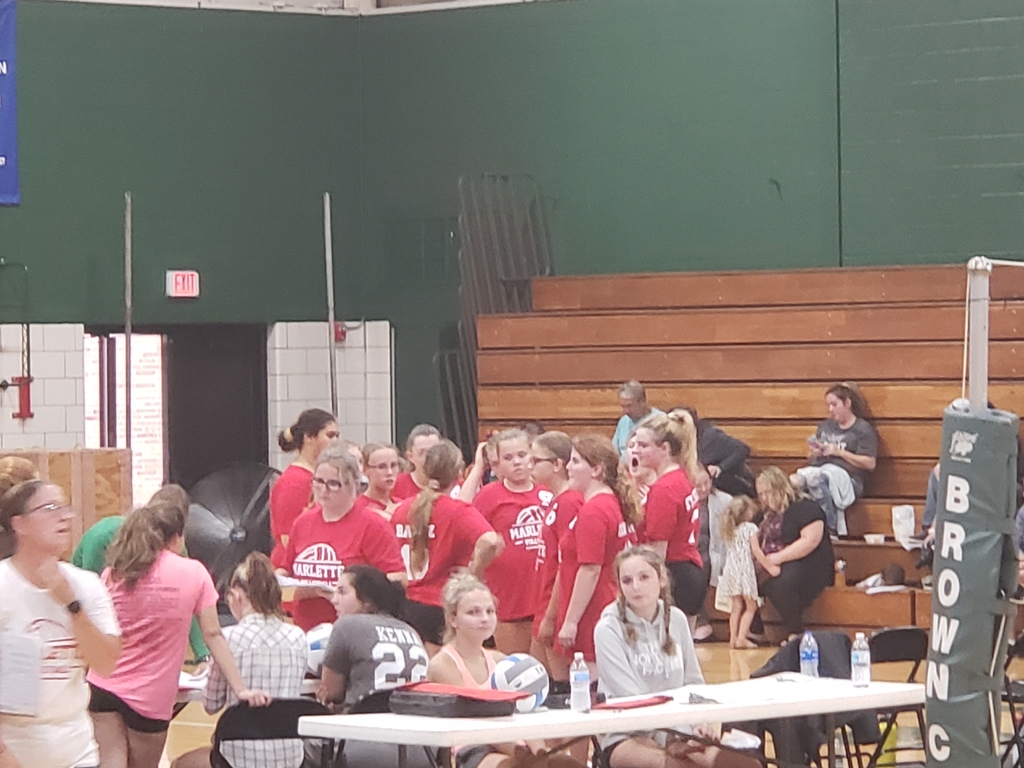 School Lunch Program encountering food shortages.
Order your Homecoming T-shirts, featuring Red Raider Radio, before it's too late! Orders are due Wednesday, September 22nd. All K-12 students have received an order form, and more are available in the school offices. All orders can be turned in to Mrs. Lester at the high school. Email her at
slester@marletteschools.org
with any questions. #HoCo2021 #RedRaiderNation