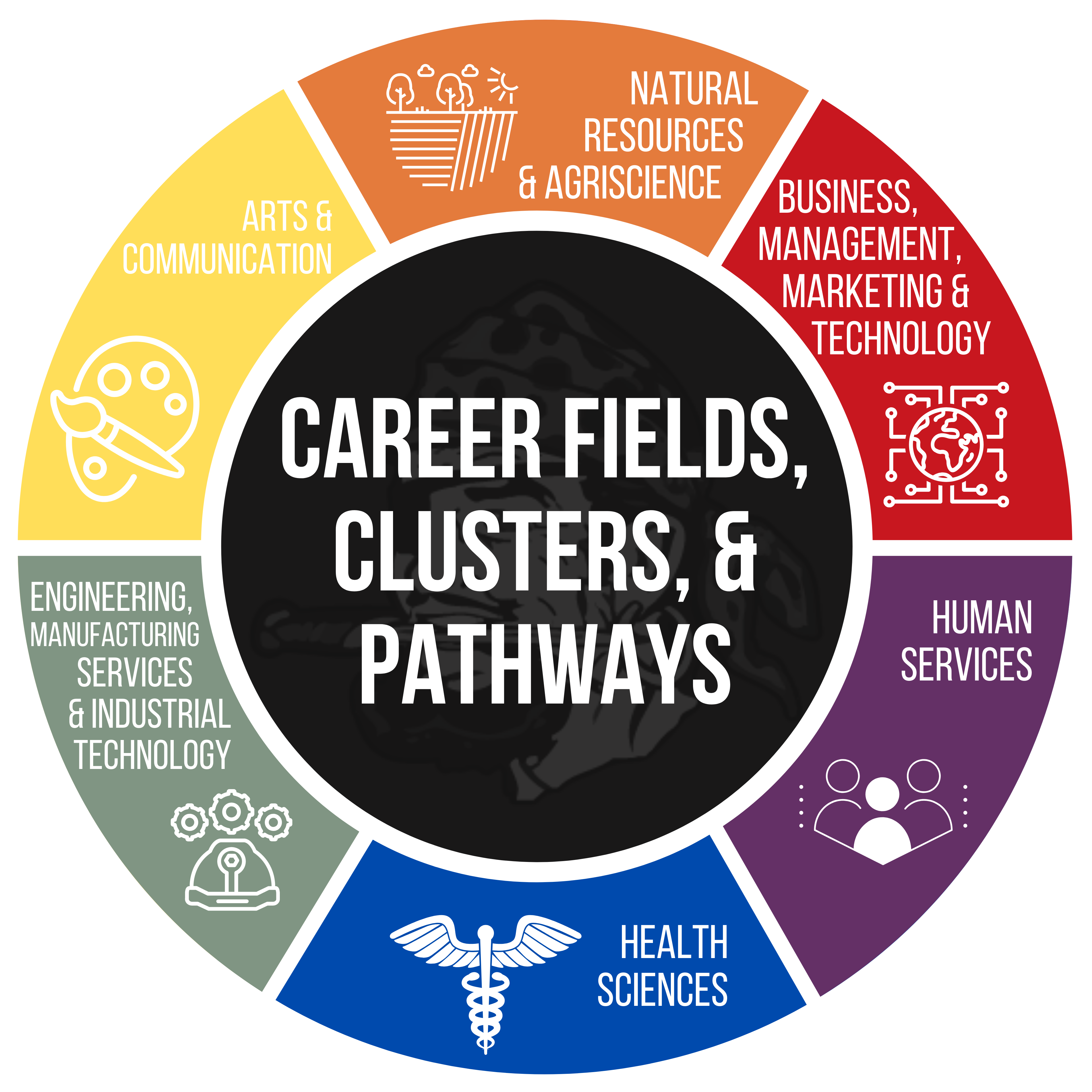 As you begin to explore what courses you want to take, download our Career Fields, Clusters, and Pathways poster to explore how the courses you take can lead you to a career you love.

The Course Selection Guide can help guide you through the course offerings available at Marlette Junior/Senior High School. Find out the details of what you'll learn in each course, any prerequisites that are required, and which courses fall into your desired career path. This information is also available in Xello.

Questions about what courses to take? Get in touch with our school counselor.
DUAL/CONCURRENT ENROLLMENT
The Michigan Department of Education (MDE) administers the Dual Enrollment Program which allows high school students in Michigan to take up to ten dual enrollment (college) courses. Students must have qualifying standardized test scores and meet the college's admission requirements in order to be eligible. Dual Enrollment allows students to get a jump start on their college education while they are in high school and equips them for college success. Dual enrollment courses can count for both high school and college credit.
Tuition and fees for dual enrollment courses, up to 1/12 of the student's state foundation allowance per course, will be paid to the college by the school district. This amount is adjusted annually and is currently $666.67. Charges in excess of the amount paid by the district will be billed directly to the student and his/her family.
It is important to note that if a student does not successfully pass a dual enrollment course, drops the course after the designated drop date, or does not complete the course, his/her family will be responsible to reimburse the school district for their expenses.
In addition to dual enrollment courses, Marlette Junior/Senior High School is proud to offer students opportunities to take concurrent enrollment courses in the core areas of English, math, and science. These courses are taught by our teachers, who have a master's degree in their subject area, and have been approved by the postsecondary institution to teach the approved college courses. These face-to-face courses are taught at our school during the normal school day and follow the college's academic schedule and calendar.
We currently have a partnership with Mid Michigan College to offer both concurrent and dual enrollment courses to our students. The course schedule is designed so students can meet high school graduation requirements and also meet the Michigan Transfer Agreement (MTA) requirements.
The College Level Examination Program offers 34 exams that cover intro-level college course material. CLEP exams are available to help students earn college credit for what they already know, for a fraction of the cost of a college course. With a passing score on one CLEP exam, you could earn three or more college credits at more than 2,900 U.S. colleges and universities.
The cost per exam is $89. The cost for eligible low-income students (those who qualify for free/reduced lunch) is only $5 per exam due to funding available from the Michigan Department of Education. Our Career Center is a CLEP test center and you can schedule to take your online exam there when you are prepared. There are no specific testing dates.
The CLEP program is part of the College Board suite of assessments. You can find out more about it by checking out the resources below and by logging in to your College Board account to register.
Free Clep Prep From The Modern States